Regular price
₹ 17,000.00
Regular price
₹ 18,000.00
Sale price
₹ 17,000.00
Unit price
per
Sale
Sold out
The soothing pastel tones balances the elaborate floral design making this dinner set minimal, yet elegant. The gold border and flower buds add perfect touch to the adorable design. The unique floral shape of the dinnerware is an absolute delight to all the crockery lovers!  
Composition & Dimensions
6 dinner plates (Diameter - 10.5 inches)
6 quarter plates (Diameter - 8 inches)
6 big vegetable bowls / soup bowls (Diameter - 4.5 inches)
6 small vegetable bowls (Diameter - 4 inches)
6 soup spoon
2 salt and pepper sprayer
3 big serving bowls (Diameter - 9 inches)
1 rice / oval plate (Diameter - 14 inches)
About The Product
Material:

 

Finest Premium Porcelain

Light weight and chip resistant crockery

Perfect for corporate and bulk gifting
Care Instructions

Hand wash with mild detergent
Dry with soft cotton cloth
Use soft sponge, do not scrub
Not microwave & dishwasher safe
Shipping & Returns

Shipping Charges (Prepaid)

₹25 if the Order Value is less than ₹3000
₹50 if the Order Value is between ₹3000 and ₹5000
Free if the Order Value is more than ₹5000

Shipping Charges (Cash on Delivery)

₹75 if the Order Value is less than ₹3000
₹100 if the Order Value is between ₹3000 and ₹7500
COD is not available if the Order Value is more than ₹7500

Packaging & Guarantee 

All the fragile products are carefully packaged using bubble wrap, thermocol and high-quality brown cartons to avoid any form of damage
We take 100% guarantee for any breakage in transit and provide free replacement of the damaged products in case anything happens

Delivery Time

We generally take 4-7 business days for delivering the orders
The delivery time is indicative and is estimated based on the location, distance and our courier partners
Share
View full details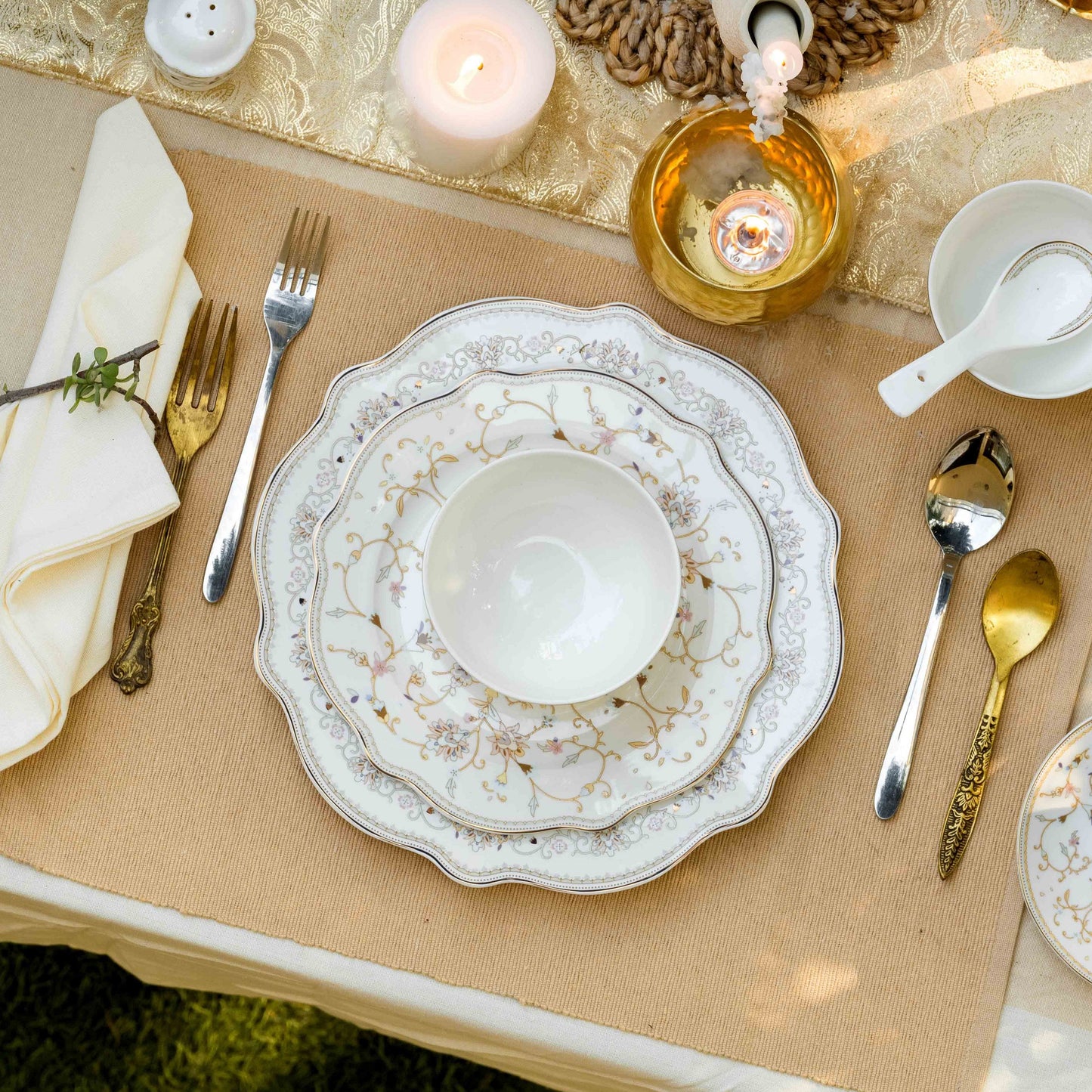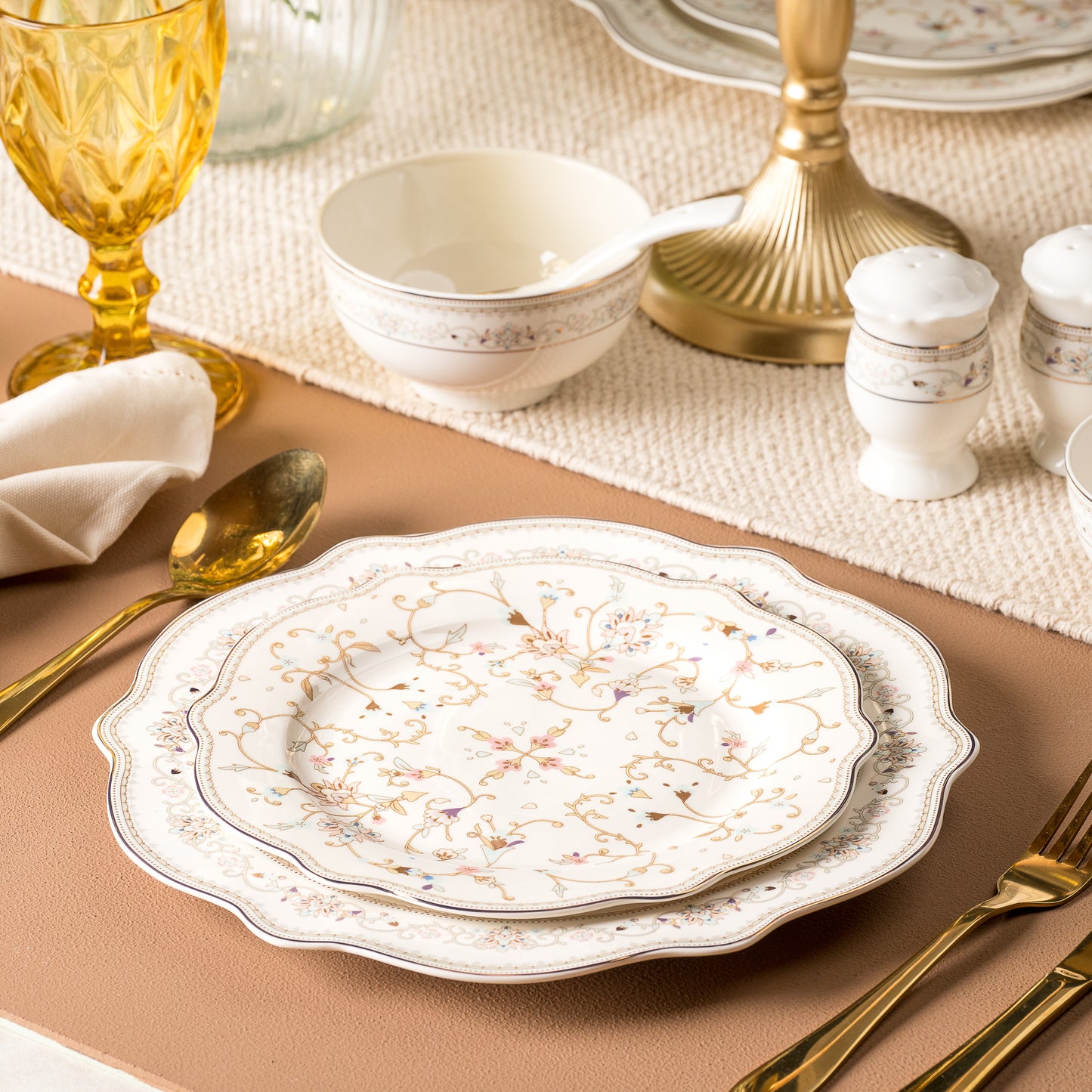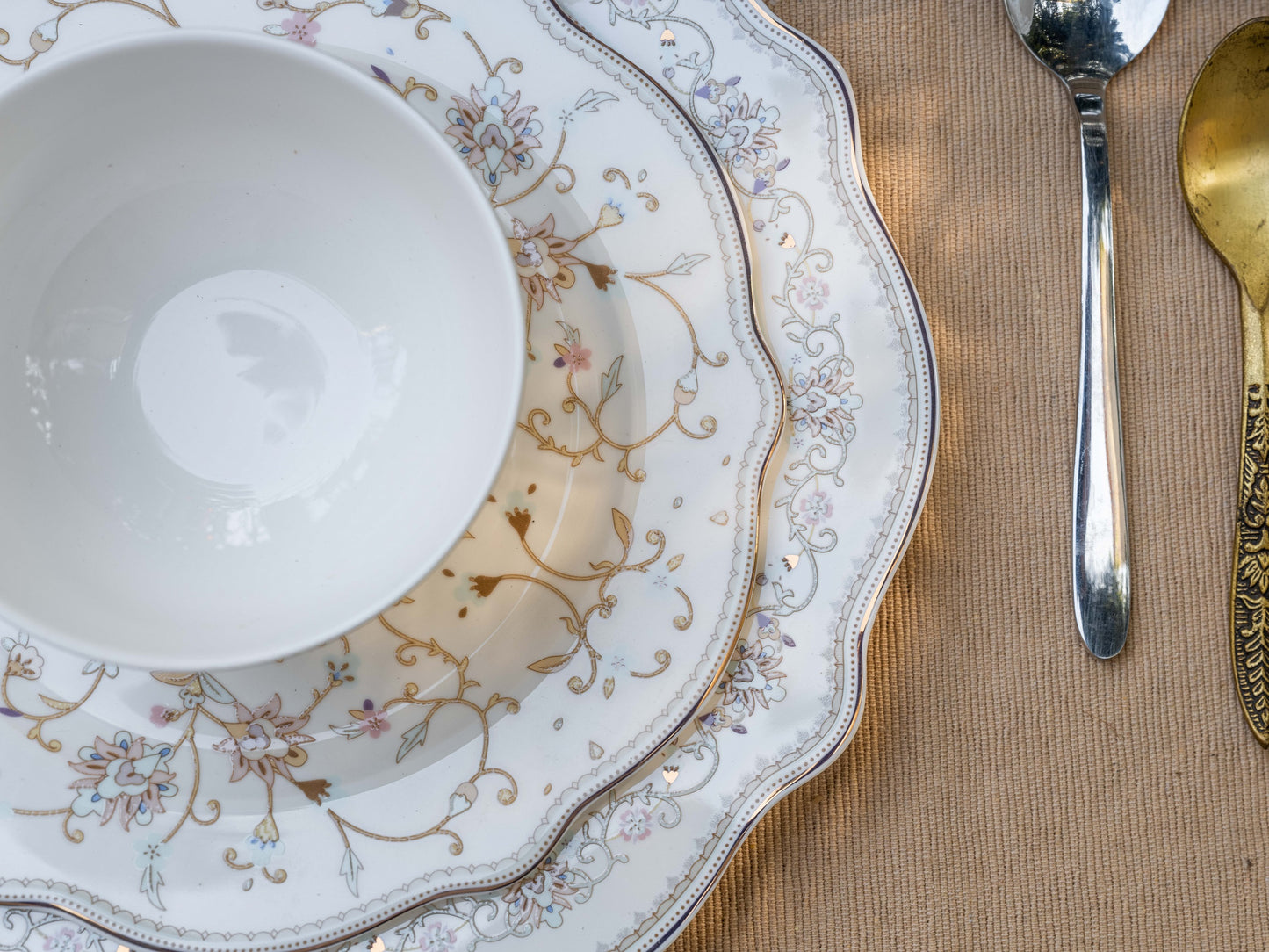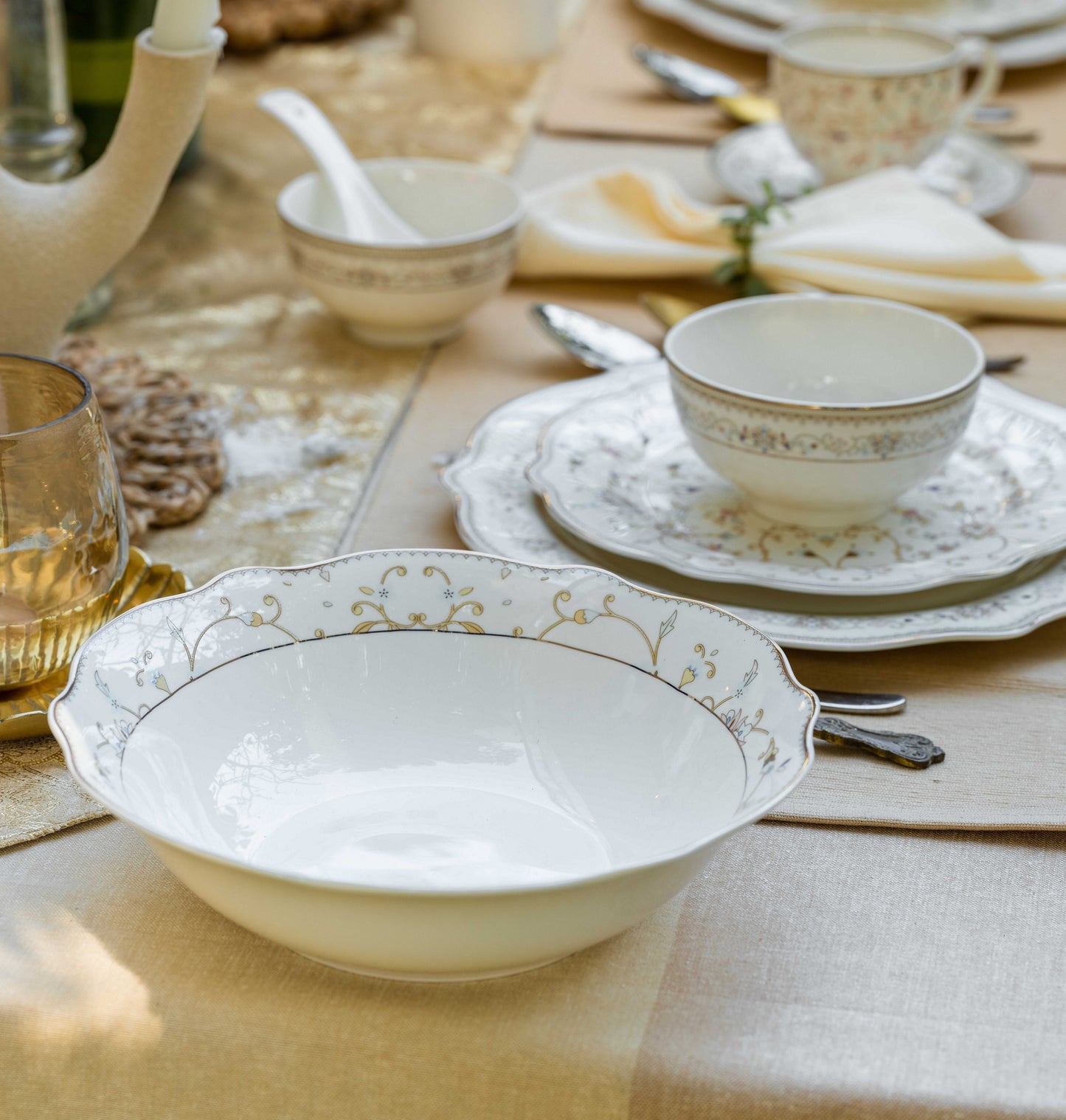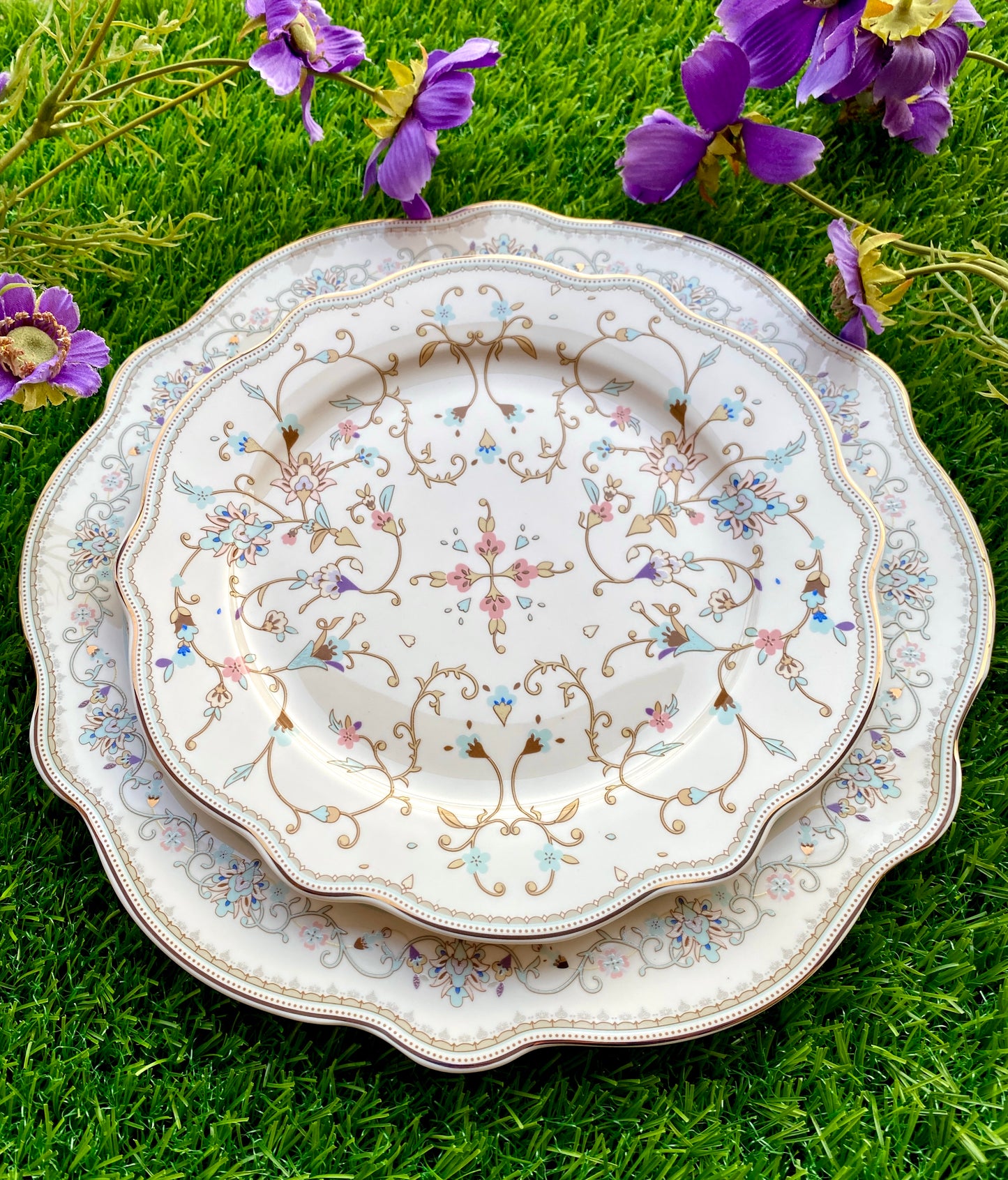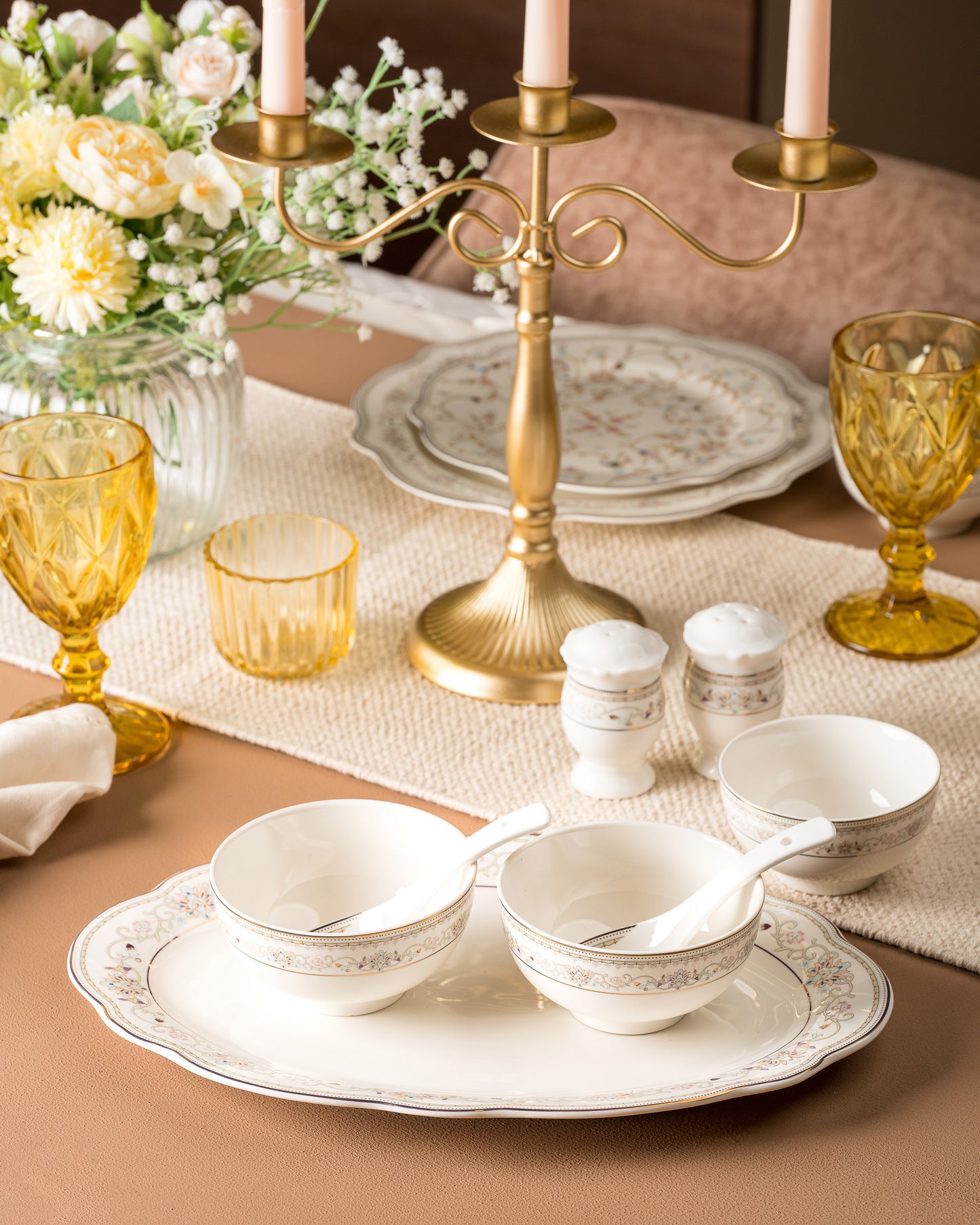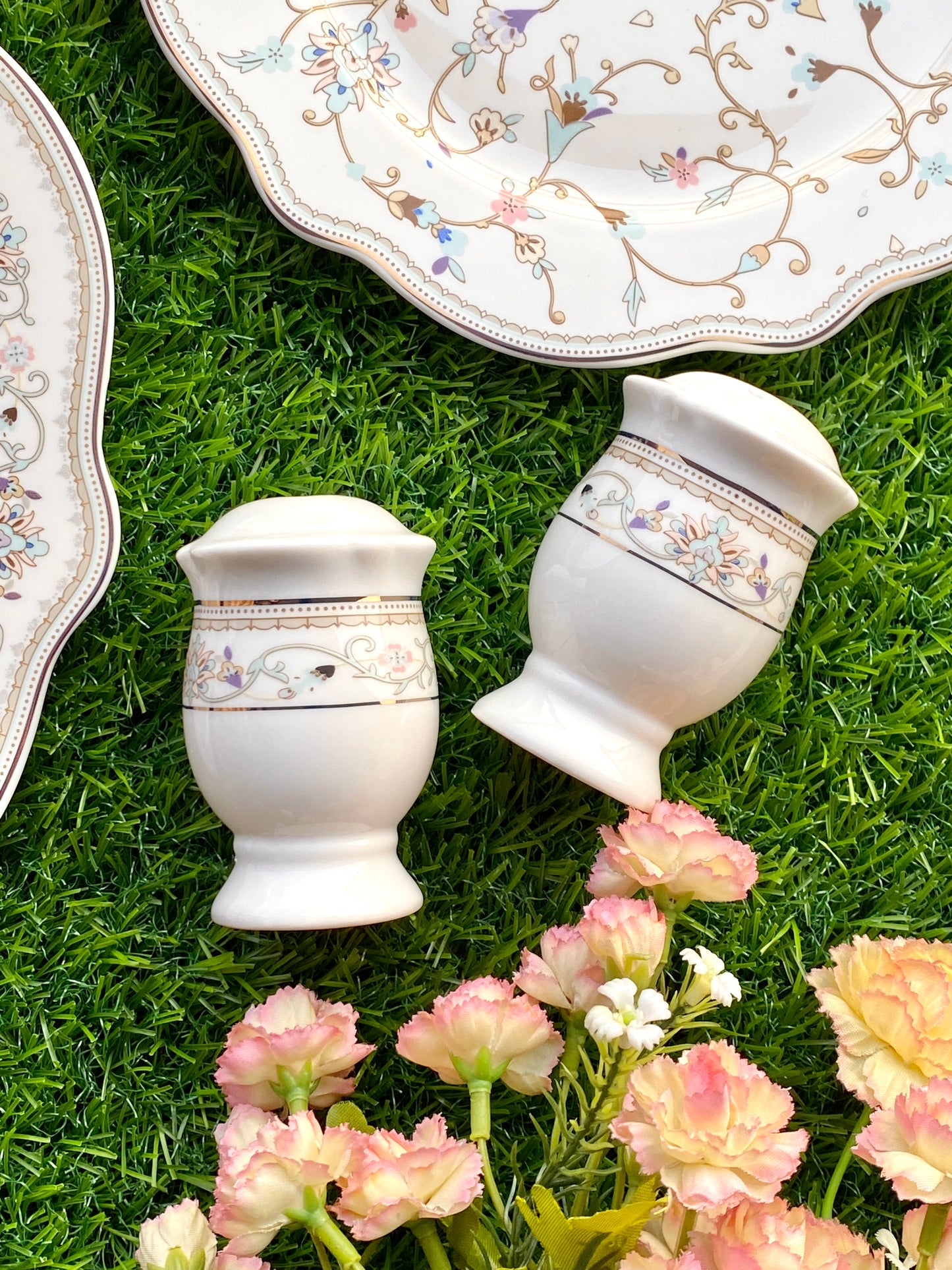 Super Luxury
I recently purchased two sets of dinner sets for my family, and I must say, I am thoroughly impressed with the quality and luxurious feel of the product. These dinner sets truly exude elegance and sophistication, making every mealtime a memorable experience.
One of the standout features of these dinner sets is the superb craftsmanship and attention to detail. The hand-embossed design adds a touch of artistry, giving each piece a unique and beautiful look. The intricate patterns are meticulously crafted, showcasing the skill and expertise of the artisans involved in creating these sets.
The gold-plated finish further elevates the aesthetic appeal of the dinner sets. The subtle sparkle of the gold adds a touch of luxury and refinement to the table setting. It's not overpowering but adds a sophisticated charm that enhances the dining experience.
Despite the luxurious appearance, these dinner sets are surprisingly lightweight. This makes handling and serving meals a breeze, allowing for a seamless and enjoyable dining experience. The groups are well-balanced, providing a comfortable grip and reducing the risk of accidental spills or mishaps.
The overall durability of these dinner sets is also worth mentioning. The high-quality materials used ensure that the dinner sets are built to last. They can withstand regular use and maintain their pristine condition for years. This is particularly impressive considering the intricate design and delicate gold-plated finish.
Having used these dinner sets for a while now, I can confidently say they are highly recommendable. They have enhanced the visual appeal of our dining table and elevated our overall dining experience. The superb product quality, luxurious design, and lightweight construction make them a standout choice for anyone looking to add a touch of elegance to their meals.
In conclusion, if you're searching for a top-quality dinner set that exudes luxury and refinement, I highly recommend considering these dinner sets. The hand-embossed design with a gold-plated finish and their light weight makes them a truly exceptional choice. Invest in these dinner sets, and elevate your dining experience.
Lovely patterns!
I really like their designs. Will keep buying in future as well as whoever visits us are loving the tableware. Beautiful designs worth the price. And the packaging is also so intact. Please keep up the great work!
Honestly, it was beyond my expectations. Everything was perfect not a single product was damaged. Thank you. Definitely buying more stuffs. 😊