Let customers speak for us
Long lasting finesse
I got two full dining sets and one full tea set from Vigneto. It's been a year and half, and I've used each set multiple times while hosting dinners and lunch parties, but the quality has been so persistent and amazing that they still look brand new and I still always get so many compliments for my crockery!
Luxury Mugs
They are beautiful. They have a complete luxury feel. I am loving the rose design, so vintage. I bought for myself but now planning to buy more for gifting too.🥰
Amazing class and absolute quality
I have a few items of VIGNETO,the 2 set mugs, cups and saucers sets and also set of 6 Mugs, the quality is AMAZING and one could feel the richness of design, FINESSE and absolute pleasure in using the same. The finish speaks of the rich quality, that one would regret no OWNING ONE.
Perfect
This was a gift my sister and I bought for our Mother's birthday. She absolutely loved it. Received it a couple of days before the scheduled delivery date.
Just go for it...
Beautiful is the word... so elegant and beautiful. I scoured the whole market online and offline but nothing like this was available.I think best in the market at this rate. Loved it and highly recommend it.
Beautifully Crafted
Cups are a lot more better than they appear in the picture. It's beautifully crafted to sum it up.
Awesome products
I ordered a snack set- high end, great quality, beautiful and affordable. Ordered my second one!
Lovely patterns!
I really like their designs. Will keep buying in future as well as whoever visits us are loving the tableware. Beautiful designs worth the price. And the packaging is also so intact. Please keep up the great work!
The gold roses dinner set is up to the mark,excellent quality,worth the price paid.
The products are amazing . They are like an English dream come true such is the beauty of their patterns . But what's exceptional is their customer service,Promptness of delivery and safety of delivery. I'm a customer for life now
Very beautiful set.
It's a very beautiful tea set. The gold band gives it a really classy touch. Fast online delivery. I have ordered twice from them now. The quality is really good.
Beautiful product
I can't thank them enough for their prompt and helpful customer service. I ordered as a gift within a short timeline, and thanks to their help I received on time. The product itself, is just beautiful! Even more so in real than in pictures. Will definitely continue being their customer, absolutely happy with their service.
Creative Crockery
We bought a beautiful green and white set . The pattern is so creatively crafted on the dining ware , that the food would look visually inviting . The pattern enhances the food and
makes guests and us feel enriched
Best product
One of the best product i have purchased online. The price completely justifies the product. Loved their packing. It is completely out of this world. Very happy with the purchase.
Excellent product !!
Absolutely in love with their products , amazing quality , superb designs . A definite have it luxury ! The most amazing part was the super fast delivery , like just in hours I received my Diwali gifts ! Absolutely love them . Will be ordering a lot more soon !! Keep it up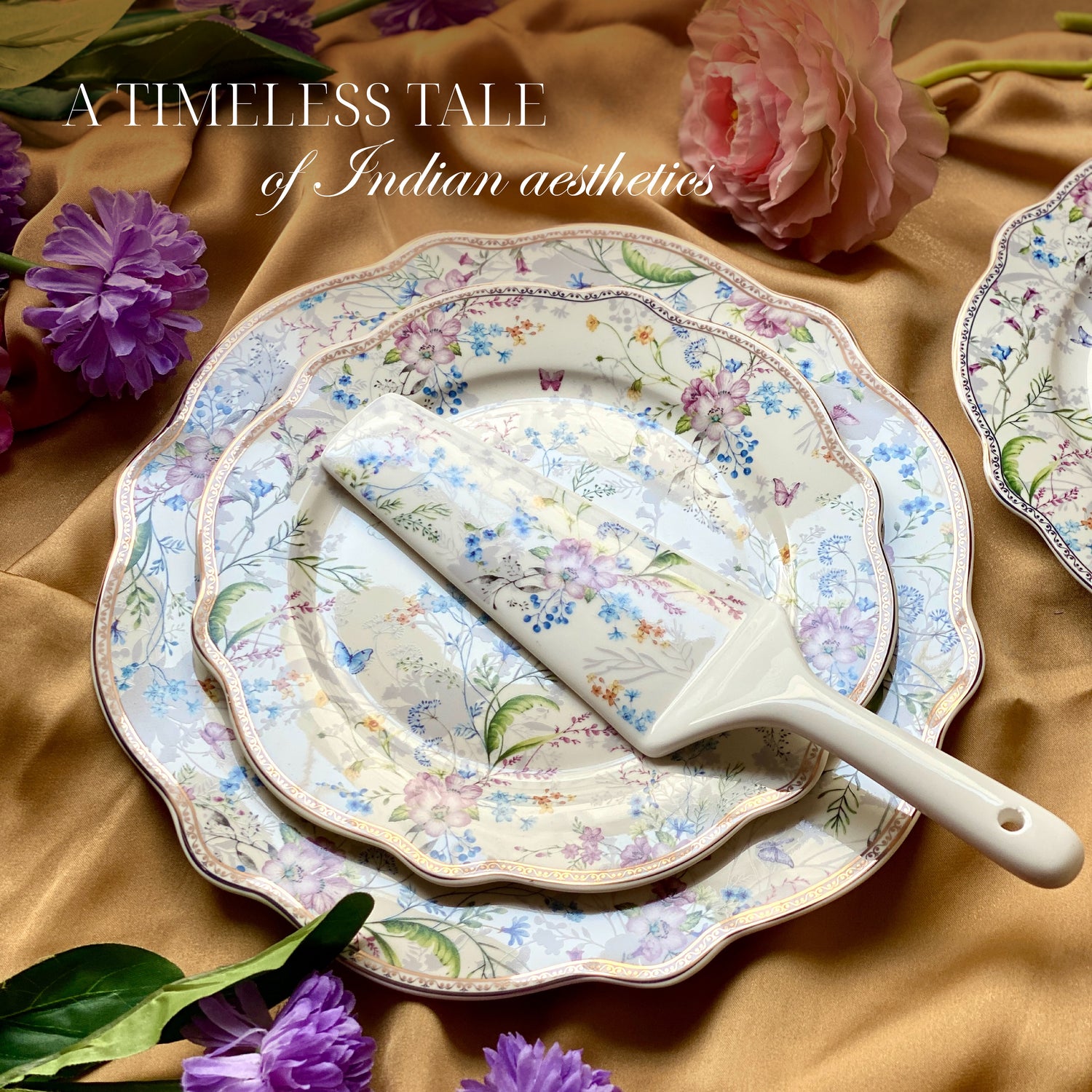 Vigneto's serveware speaks of a timeless classic tale, beautified with an elaborate floral charm! Explore the luxurious range of serving sets inspired by Indian taste and aesthetics!
Serving Sets